Effects of Sleep Deprivation and Acute Muscle Recovery
For many years sleep deprivation has been known to affect brain function, whereby 48-72 hours of sleep deprivation has been used as a means of torture. As in the famous novel by George Orwell, 1984, acute psychosis can be induced with sleep deprivation. Additionally, sleep deprivation can induce metabolic dysfunction including a blood spectrum similar to metabolic syndrome in otherwise young healthy individuals.
Any of us who have undergone intense unfamiliar exercise know the uncomfortable feeling of DOMS (delayed onset muscle soreness) and restless sleep. A combination of lack of sleep, over-training and inadequate recovery can result in the 'three bastards in a day". Read to the end to know who these three bastards are.
Taking into account the many layered affects of sleep deprivation, it should come as no surprise that muscles may also be affected. Dattilo et al (2020, Med Sc Sp Ex,52, 2, 507-514) examined the effect of total sleep deprivation on muscle recovery after eccentric exercise induced muscle damage(EEIMD). They found that, in 10 healthy untrained males, sleep deprivation did not affect muscle recovery but modifies inflammatory and hormonal response.
More precisely, sleep deprivation increases blood IL-6 levels and modifies the blood hormone balance by increasing IGF-1, cortisol, and the total cortison/testosterone ratio. Significantly, acute IL-6 elevation is known to stimulate hypertrophic signalling and myogenesis through regulation of muscle stem cells. However, chronic elevation of IL-6 can be very detrimental to skeletal muscle such as seen in cachexia.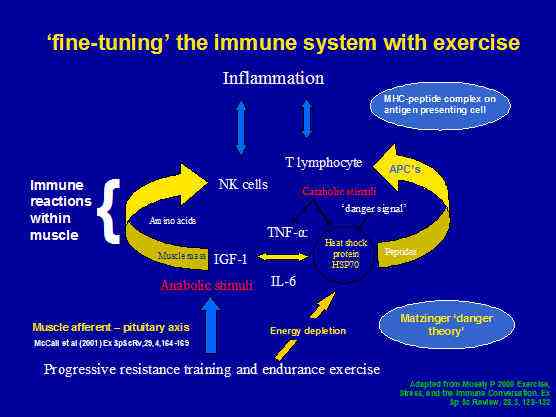 Muscle damage alone stimulates an immune-nervous system response
Normally functioning balance between pro-inflammatory and anti-inflammatory substances and neuro-immune modulation is referred to as allostasis
An interesting hypothesis is how sleep deprivation affects the cognitive evaluation of 'danger signals' in the presence of heightened arousal in a 'milieu' of an already stimulated immune-hormonal response to muscle damage
Commonly, the sympathetic nervous system is viewed in terms of the 'fight-flight' response to perceived and real danger. Top down modulation or conversely bottom up modulation? A Psychologist may think top-down whereas a physiotherapist, exercise physiologist or sports trainer should think in both directions, especially since we are muscle specialists.
Commonly, over-training or over-reaching is associated with non-restorative sleep and nitrogen imbalance. This can affect catabolic processes such as those induced by cortisol and attenuate anabolic (muscle building) processes such as that induced by testosterone. Symptoms of over-training and sleep deprivation are nitrogen imbalance and the "three bastards in a day' rule.
So who are these three bastards? If you meet a person who you really don't care to meet again, then that is fine. If you meet a second person like that on the same day, you might be very unlucky or in group company. If you meet a third person like this, and they aren't part of group, it's not them but you!!! Commonly, when people have asked me 'how do I know when I am in over-training?' I say, just ask your partner or spouse or have you met three bastards in a day lately??!!!
Uploaded : 22 February 2020
Slides used are from a presentation I made at a conference in Rome in 2005.