Balance Exercises for the head and neck
Martin Krause
Back in Business Physiotherapy
Suite 201, 107 Walker Street, North Sydney
9922 6806
Consideration of balancing exercises
When we consider balance exercises in physiotherapy, people immediately think of standing on one leg after an ankle injury. However, many people have balance disturbances as a result of pathology in the neck and rib cage from poor posture and/or trauma. Commonly, injuries to the neck, as a result of a Whiplash injury, can cause visual disturbances, incorrect neck sensations of position (cervical proprioception), and inner ear issues.
In conjunction with a thorough examination and appropriate manual therapy and soft tissue techniques, an exercise program for neck-eye-ear proprioception can begin.
Exercises involving visual and joint positioning (proprioceptive) challenges. JPE and the laser pointer.
Exercises incorporate the use of a 'laser pointer' and bullseye. By examining the ability of a subject to be able to correct 'joint position error' (JPE) it gives the physiotherapist and client an opportunity to establish a baseline from which a treatment and an exercise regime can be established. 'Hands on' manual therapy treatment and muscular stabilisation regimes can improve JPE, and JPE exercises can improve the rate of recovery and reduce the rate of re-injury.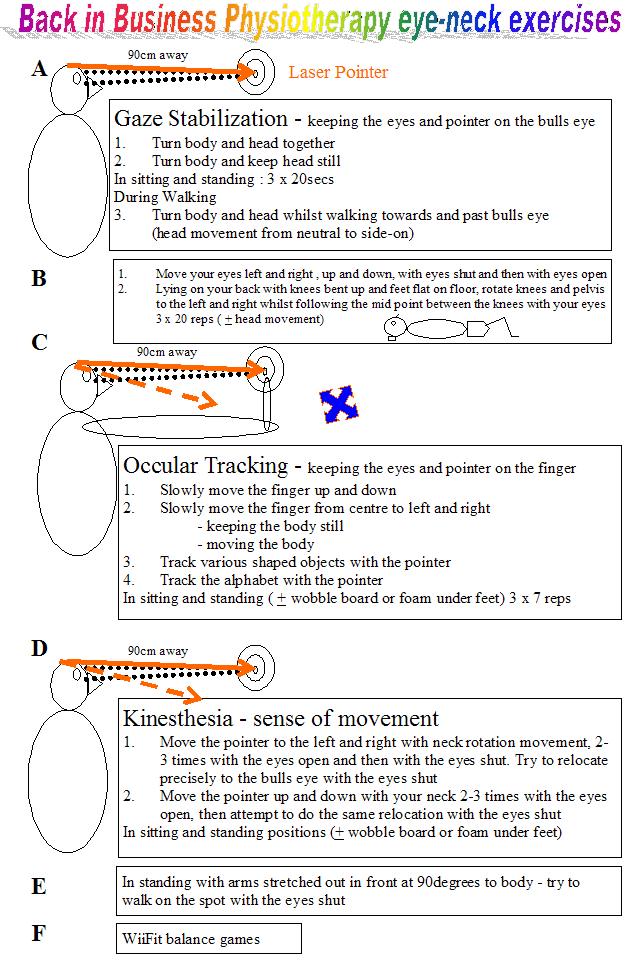 Further exercise regimes using the visual apparatus to complement and/or correct vestibular and joint proprioception input
Virtual reality systems to accommodate the need for 'whole body balance' treatment –WiiFit balance exercises, ball-head activities, eye tracking activities
Eye-head coordination
a. moving the eye balls with eyes open and shut – up/down, left & right – 7 reps
b. visual tracking tasks with the head still (see fig 11)
c. gaze stability exercises whilst moving the head slowly and later progression to rapid movements – maintain fixed eyes on a target
d. keeping the gaze stability whilst moving in phase with the head into sitting, standing and walking
e. moving the trunk or varying the surface (eg soft) whilst maintaining the gaze on a fixed target (see fig 12 below)
Balance exercises
a. walking with saggital (fwd/bkwd) and transverse (rotation) plane movements of the head and neck
b. walking a distance and turning rapidly and walking back
c. standing on a balance board making various head movements progressing to tracking a moving object
d. walking on a treadmill detecting movements in the periphery without looking
e. walking blindfolded
Shock absorbing through the use of a trampoline in standing
Task dependent exercises
Repeat the movement that makes one dizzy
General endurance exercise
Cardiovascular training
Some forms of dizzyness are as a result of crystals dislodged in the ears. In those cases manouvers conducted by a trained therapist can help. Once these have been undertaken they can be taught as a home exercise program.
Benign Paroxysmal Positioning Vertigo (BPPV)
Home exercises can be implemented to re-establish the correct position of the crystals in the inner ear.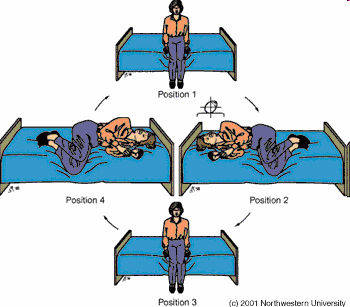 Brandt Daroff, sitting to supine to side lying left and right with head angled upward about ½ way : "like looking at someone standing 2metres away from you and you look at them all the time
3 sets per day for 2 weeks
1 repetition takes 2minutes, 3secs in each position, repeat 5 times (total 10minutes)
Hallpike-Dix: Home Epley Manoeuvre : hold each supine position for 30secs and the sitting position for 1minute, repeat 3 times just before sleeping. Total 2 1/2minutes x 3 = 7 ½ minutes
Conclusion
Creative ways in the manner of assessment and treatment are usually required for complex neck-thorax-ear-eye pathology. It is the role of the physiotherapist to differentiate the contributing sources of dizzyness and address all these pathologies in order of priority.
Martin Krause : Updated 8 September 2013